By using exceptional St. Augustine plugs and quality growing conditions, Boyd & Son Sod Farm in Newberry, Florida, produces lush sod for homes and properties in North Central Florida. Our shade-tolerant options include St. Augustine Bitter Blue sod and Zoysia Grass.
For residential or commercial uses, take advantage of the benefits of the St. Augustine Bitter Blue sod. Cold and heat tolerant, this grass is also shade tolerant and requires three to four hours of sunlight a day. It can even withstand salt and moderate traffic. Maintain it at a mowing height of 3 in. to 4 in.
Uses: Residential & Commercial
Cold Tolerant
Heat Tolerant
Shade Tolerant (3-4 hours of sunlight day)
Moderate Traffic Tolerance
Salt Tolerant
Mowing Height: 2″ – 4″
"When possible look to local sources of this shade tolerant sod. Locally grown sod will be best adapted to our climate and sandy soil conditions. Also, locally grown sod does not have to be trucked to our area."
Wendy Wilber,
Environmental Horticulture Extension Agent
UF/IFAS Alachua County Extension Service
QUALITY SOD GROWN IN NORTH CENTRAL FLORIDA
Use sand-grown sod to ensure that you have the highest quality results. Many golf courses exclusively use sand-grown sod to ensure a mature root system. Other sod brokers often bring in muck grown sod from other areas that have to adapt to our local environment, making it less desirable for your yard. 
Our sod is grown in the same soil and weather conditions that are present in the greater North Central Florida region and is the best that is available. Visit our FAQ page to learn more!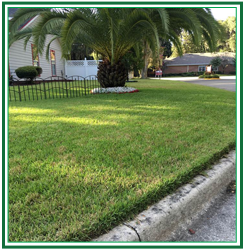 The best way to reach us is via phone at (352) 472-2616. Please leave us a message with your name, phone number and reason for your call, as we may be on the phone with another customer.
We will get back to you promptly.